Hi ya Gorgeous!
National Nude Day-enough said!
Geez. I say, keep your clothes on and wear some natural toned makeup.
Here is a quick look you can get using Merle Norman cosmetics:
The key words for pulling together this look are "neutrals" and "naturals" – on this day dedicated to effortless beauty, substitute bold red lips and smoky eyes with these naturally chic products from Merle Norman:
Eye Shadow
: Merle Norman's soft as suede pressed powder provides stay-true color to brighten and add depth to your eyes! It's crease-resistant and smudge-resistant color glides on smoothly and evenly for stay-there wear. Shades like Sun Beam, Almond, Bare Necessity and Cocoa Cashmere will help your eyes shine on National Nude Day, no matter what your skin tone! ($12, Merle Norman Studios nationwide)
Purely Mineral Cheeks:
Merle Norman's pressed-powder blush contains skin-friendly mineral ingredients that deliver a naturally radiant glow. Sheer colors like Berry Happy and Rosy Outlook blend easily for a healthy-looking finish. This powder is fragrance-free, oil-free and ideal for all skin types. ($18, Merle Norman Studios nationwide)
Creamy Lipcolor:
Supremely cushiony, this moisturizing formula imparts luxurious color in one creamy stroke! Shades like Smoked Mauve, Gold Plated Bronze and Caramel Kiss will pull together the perfect Nude Day look and make your lips look and feel super-kissable any day of the week! ($15, Merle Norman Studios nationwide)
Remember: you are beautiful! Thank you for visiting the blog and check back for promotions and beauty giveaways!
From spot-on color descriptors to clever double entendres, we rounded up the best shade names of all time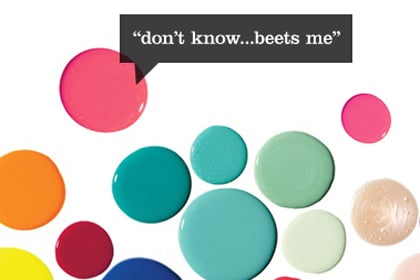 This is a TotalBeauty.com nails article
Sure, the color of nail polish in the glass bottle is a big deal, but the next thing you do is flip the bottle over to read the name written on the bottom. If that name makes you roll you eyes, it's going back on the shelf. If it makes you laugh out loud, there's a good chance it's getting painted on your fingers and toes. We compiled a list of the 25 best nail polish names that are clever, funny, and just simply spot-on. Click ahead to see if your favorites made the list.