Hey Gorgeous!
You know what time it is? It's Under the Dome time! I admit I am sucked in to watching the show and now plan to read the Stephen King book by the same title.
I understand that the show is not following the book to the letter, so I am going to wait til after the show wraps to start reading the book. I read all three Hunger Game books in 3 days and was so disappointed when the movie did not follow the books closely.
The Episode 5 is called Blue on Blue and it contains Barbie receiving word from the outside that the government is drawing their men back as the Dome interferes with magnetic fields. Ahhh!
Now let's talk about the beautiful
Britt Robertson
who plays Angie McAlister, and is locked up in a fallout shelter by crazed ex-fling Junior Rennie!
Britt Robertson has really beautiful skin-I wonder if she uses Kinerase?
Kinerase 4-Step Essentials Kit is available at Ulta for $98
Personally, I think it's perfect for travel and for keeping a dedicated gym bag set of skincare as well as a great way to try a new skin care system.
Here are some details:
Description Kinerase 4-Step Essentials Kit is a system that helps repair, restore and resist visible signs of aging in as little as 4 weeks. These intensive yet gentle products start working immediately to boost moisture to skin and counteract damage sustained throughout the day, thereby reducing the appearance of the signs of aging - fine lines and wrinkles, dehydrated skin, and uneven skin tone and texture.
Kit Includes: Gentle Daily Cleanser 1.7 oz, C8 Peptide Intensive Treatment .5 oz, Advanced Lotion 1.0 oz and Advanced Eye Cream .25 oz.
Directions
Massage Kinerase Gentle Cleanser over moist skin for two minutes and rinse. Gently massage 3-5 pumps of Kinerase C8 Peptide Intensive Treatment onto the face, neck, and decolletage. Be careful not to apply product any closer to eye than the orbital bone. Apply Kinerase Advanced Lotion to cleansed face and neck twice a day, or as directed by a physician. Apply Kinerase Advanced Eye Cream to the eye area twice a day, or as directed by a physician.
Remember: you are beautiful! Thank you for visiting the blog and check back for promotions and beauty giveaways!
Stressed? Try one of these calming yoga poses in the comfort of your own living room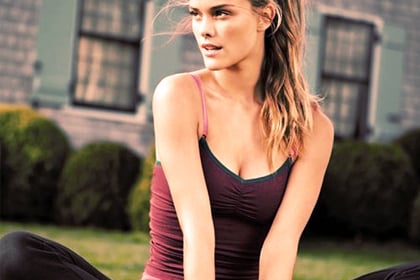 This is a TotalBeauty.com Fitness article
With a busy schedule that piles on the stress, fitting in a yoga class is more wishful thinking than reality, right? Well, here's some good news: You don't need a whole hour and a half yoga class to unwind. To help you de-stress on a more regular basis, we put together a series of simple yoga poses that you can do at home. So, focus on your breath, put on some relaxing music, and try these poses that'll detoxify all the crazy stuff going on in your life.