The One Exercise Every Woman Must Do
What exercise should you do when you have limited time? See our expert's answer …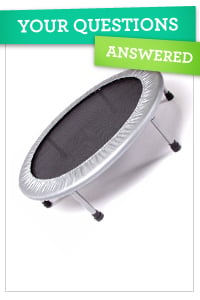 This is a TotalBeauty.com health & beauty article
Celebrity fitness and lifestyle coach, Ashley Borden says that "rebounding" is the perfect exercise. What exactly is rebounding, you ask?
Oh friends! I've been sampling a wee set of sample from 3 Lab and this stuff is just lovely!
Read on to find out why! ;) STRAIGHT FROM THE LAB NEW "EYE-TECH" TREATMENT FOR DAZZLING EYES
3LAB INTRODUCES SUPER EYE TREATMENT WITH CLINICALLY PROVEN RESULTS Youthful eyes are instantly achievable with 3LAB's breakthrough technology in the new Super Eye Treatment. Harnessing the power of stem cells and bio-engineered growth hormones along with other age-defying ingredients, this unique product combines skin care benefits with camouflaging properties to both treat and illuminate the delicate area around the eyes. One super solution to all your eye area concerns. "My passion is to create the best, most advanced skin care products available that truly deliver immediately visible, measurable, and long-lasting results, while maintaining the natural beauty and health of the skin" commented Erica Chung, Co-Founder and Creator of 3LAB. "I was compelled to develop Super Eye Treatment because we discovered these cutting-edge technologies that could be effectively combined into one novel product that instantly tightens and brightens the eye area. Super Eye Treatment is unlike any other product currently on the market. It is designed to smooth and refine wrinkles, tighten under-eye sagging, reduce puffiness, and brighten dark circles. Backed by a research team that identifies and develops the newest, most innovative ingredients and technologies, this powerful, yet gentle and luxurious treatment is packed with 3LAB's own proprietary "Promatryx Complex" that includes a unique blend of stem cells and bio-engineered growth hormones. These groundbreaking ingredients, along with other clinically proven anti-aging ingredients such as peptide blends, natural plant extracts and anti-oxidant filled platinum powder, ensure visible, instant and long-lasting results. Clinical studies show that 96% of people tested noticed a marked improvement in the skin around the eye area. Key Features and Benefits include: Apple Stem Cell Technology derived from the stem cells of a rare variety Swiss apple, protects and stimulates stem cells, rejuvenates the skin and prevents chronic aging. Grape, Acai Berry, Chrysanthemum Flower, and Sunflower Root stem cells protect against UV damage. NanoClair GY, a bio-engineered growth hormone, works as a "hormone replacement therapy" for the skin. A unique blend of Ash Tree Bark and Vitamin B3 decreases under-eye bags and dark circles and tones eye contour. A combination of peptides including Wheat and Matrixyl 3000 provide short and long-term lifting and firming of the skin around the eyes. A synergistic complex of bamboo, pea extract, and glucosamine increases the production of collagen, elastin and hyaluronic acid to firm and plump the skin and reduce the appearance of wrinkles. An anti-oxidant complex that promotes cell turnover and natural healing. Included in the complex is Platinum Powder, which delivers a light scattering effect to help reduce the appearance of wrinkles and illuminate the eye area. Super Eye Treatment is available exclusively at Barney's. The suggested retail price is $350. It should be applied daily after cleansing all around the eye area including under the eyes and along the orbital bone. About 3LAB3 LAB combines the most innovative technology and advanced ingredients available with elegant, efficacious formulations to deliver highly effective, high-end skincare products that improve the health and beauty of the skin while reversing skin damage and combating the signs of aging. Erica Chung, Co-Founder and Creator of the brand, was on a quest to create the "Perfect Product" and it was her passion and commitment that led to the creation of 3LAB. The company was the first to introduce bio-engineered growth hormones and apple stem cell technology. This unique skin care line boasts a list of celebrity followers and is loved by skin care experts and makeup artists as well. The products are available at prestige department stores and specialty boutiques across the country and internationally. Remember: you are beautiful! Thank you for visiting the blog and check back for promotions and beauty giveaways!