Quiz: How Well Do You Know Lady Gaga and Madonna?
Sure, they're two wild cards that stand out from the crowd, but can you tell one from the other?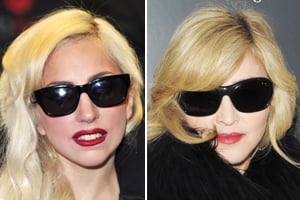 This is a TotalBeauty.com blonde hairstyles article
These two "separated at birth" chameleons are so alike on so many levels. So much so in fact, that quotes, when taken out of context, can seem attributable to either one. See how well you know your pop divas.
Hi Gorgeous! Enjoy some notes on how to keep your cool while looking hot at Coachella! Notes are from makeup artist Juliana Landis. Enjoy! ### This weekend fashionistas will flock to the annual Coachella Music Festival in the desert of California, while they already have the wardrobe to compliment the heat, here are some last minute beauty tips form LA-based makeup artist and brow/lash expert Juliana Landis that your readers should consider to prevent a makeup meltdown while attending a pool party or in the fields rocking out to their favorite band. Before venturing down to Indio, CA, Landis suggests keeping things simple, less is more and in the end save your skin from unsightly blemishes and breakouts. The smokey eye is way too heavy for the daytime and can easily smudge down your face, think about softer and lighter looks that can be created with metallic golds, ambers, ecru and beiges and if liner is a necessity for your readers during the day, Landis suggests using a brown liner, which is quickly becoming the new black. Landis suggests checking out Chanel's Quadra Eyeshadow in Dune that contains beiges, gold and taupe. To avoid the makeup meltdown, Landis highly recommends using concealer only where you need it and stick to powder foundations like MAC's mineralize powder with SPF15. It's important to remember that oil and water foundations, combined with the sun beating down can leave skin greasy instead of dewy. Also, your readers should try using a powder two shades lighter under the lash line before applying mascara to keep mascara from creeping down. If you can avoid putting mascara on the lower lashes altogether even better and be sure to use waterproof eyeliner to make your eyes pop and again to keep your makeup in place and still look super glam! Remember: you are beautiful! Thank you for visiting the blog and check back for promotions and beauty giveaways!