See how stress affects your skin and learn how to reverse the damage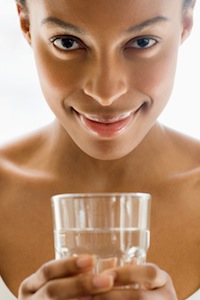 This is a TotalBeauty.com stress and women article
According to New York City dermatologist David Goldberg, MD, when a person becomes stressed, the hormone cortisol rises causing skin to become oily, red and aged. So what can you do about it? Check out these easy lifestyle tricks that'll keep you looking good no matter what your stress level.
Hello Gorgeous! Kate Middleton is getting married in a few hours!
Here is a short photo tutorial of a simple bridal look for going from commoner at one moment to
a royal princess in the other!
I'm using primarily all Borghese products in the photos.
The foundation is a mineral powder called Milano in Light by Borghese.
Next I apply my brows with Sophia by Brow Diva.
Then it's onto eyes with Borghese Amalfi Coastal Plums.
The colors are rich and wear really well-plus take great pictures!
The lightest shade in the center is all over the eye and on the brow bone.
Then the right shade, which is a taupe tone is all over the lid and I contour with the left shade which is the darkest.
I'm using my own brushes which are a mix of Smashbox, Arbonne and of course, Brow Diva!
Now, I do not know who is doing Kate Middleton's makeup and hair for the wedding. Let alone what products are being applied-but I'm sure all of the details will come out tomorrow after the ceremony!
Now here is the kicker! I'm using the Milani eyeliner in purple to bring out my green eyes. Kate's eyes look like a sparkly green/blue hazel, soa
purple shade will make them appear more so!
I'm finishing my face with simple blush contouring using Borghese Blush Milano in Rosa Billante.
Of course, I have dusted my face with Makeup Forever HD powder to set everything.
Now if I was truly walking down the aisle at this moment I would reset my makeup with Skindinavia heat proof makeup spray.
I line my lips with a nude liner, and then finish the entire look with Borghese B Moisture lipstick in Pinkissima.
In my opinion, you can never have enough shades of pink lipstick or lipgloss.
The photo you don't see is I have applied a set of false lashes and sealed it with L'Oreal Voluminous
mascara.
So there it is ! The look of or possibly, a bride to be going from commoner to royal in a day!
It reminds me of the Bible story of a nation, Israel, being built in a day! Miracles really do happen! All the time!
Now, the real question is-now that I have all this makeup on-and I pick up Mancub from school...what to do and wear to go?
Enjoy the royal wedding coverage. There is a link at
bottom of this post. It starts at 3 a.m. in the United States. I'm not staying up or getting up for it-but plan to catch it once the coffee is ready at 6.
If you have created your own Kate Middleton bride to be makeup look-share the link to your pics!
http://www.masslive.com/entertainment/index.ssf/2011/04/tv_coverage_of_royal_wedding_b.html
Remember: you are beautiful! Thank you for visiting the blog and check back for promotions and beauty giveaways!