A Flawless DIY Pedicure in 9 Easy Steps
See how one editor is getting her feet sandal ready with these expert tips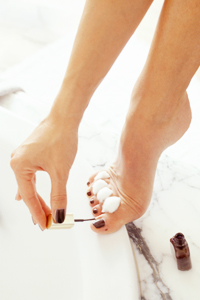 This is a TotalBeauty.com pedicure article
If you've just splurged on a pair of strappy sandals and can't afford to hit the salon for a pedicure as a result, check out these expert tips gleaned from beauty gurus.
Well hello gorgeous! Welcome to your weekend! I hope it is going amazing for you!
In the photo there are two new products by Neutrogena that I have recently tested. There is a short video for you below, but before you enjoy it I would like to share a few thoughts!
1. I really liked the bronzer-perfect for a beach bag on the go, a great addition to a prom look and also would work wonders tucked into your everyday beauty bag you keep in your purse. 2. The foundation-it could be me and my skin because if I'm not in the sun sweating I'm in the pool filled with chlorine. So, that said, I do like the high spf on this creamy foundation that gives a light sheer coverage. Enjoy the video to find out what else happened in the testing of this product!
Remember: you are beautiful! Thank you for visiting the blog and check back for promotions and beauty giveaways!