Look like you, but better with these natural hair and makeup looks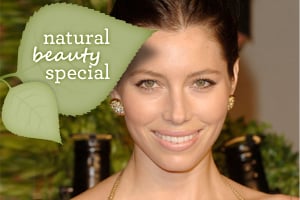 This is a TotalBeauty.com natural makeup article
While achieving the ever-elusive natural, no-makeup makeup look seen on celebs takes a bit more effort than rolling out of bed, it does take a heck of a lot less time and effort than a smoky eye or perfecting bold red lips when done correctly.
Hello dear Gorgeous!
Did you need help getting together products for a simple and affordable Catherine 'Kate' Middleton royal wedding look?
Or maybe you follow Dancing With The Stars like me ( go Chris Jericho! Swing it Kirstie!)
Here I am applying the mineral powder foundation
from Borghese called Powder Milano. It has spf 15!
I love the large angel orbs on my temple-it looks like one of the orbs is holding a teleprompter or a book?
Now in the next photo I am throwing out the wee brush that comes with the blush. Oh! This coral blush is one of the best colors for the 2011 summer!
I prefer a large blush brush-but you use what you are comfortable and if you want to save the brush
for travel or emergency use, so be it!
Now, I like to make a comma shape: the tail is at the temple and I brush the color thicker until it makes a small round head on the apple of my cheek.
I'm getting ready to put my eyeshadow on in a simple, wedding-all be it 'royal wedding'
styled easy eye shadow. I'm using the Borghese
Puccini Plum trio-which is rich in tone and texture-
there are some disposable/travel like tools included in the trio, but I prefer my own brushes.
I'm using the lightest color on my brow bone and along the tear duct area.
Then I use the blue tone on the center of my eyelid along the lash line but no further than the
crease. Finally, that gorgeous purple I run all along the crease and make a diamond shape on the edge of my eye.
In the corner of the eye, I create depth and then run the purple brush load along the lower lash line in a smudgy mark.
I am not wearing an eyeliner in the pictures or video, but to complete the look for a more dramatic effect apply a black, grey or deep purple line in a cat eye fashion on the top and slightly on the bottom.
Finally, I apply the Borghese mascara. Now, as a side note-I am a mascara lover and this is a nice mascara. Yet, alas-I am a die hard fan of L'Oreal Voluminous and that is what you see in the final photos and video.
If you are getting ready for the wedding-consider a water resistant or water proof mascara?
Finally-I finish the whole look with this neat lipstick
from Borghese called "Duale" which is a spf filled lip conditioner with a center made of lip color!
I love it! The perle effect is softening, and it wears really well.
I'm wearing the Borghese Duale in Perle Nudo.
Fantastic! Enjoy this simple Borghese created Kate Middleton Royal Wedding look-or, save it for a Mother's Day brunch!
Remember: you are beautiful! Thank you for visiting the blog and check back for promotions and beauty giveaways!