3 Pretty Spring Beauty Trends You Must Try
See which trends are a must this season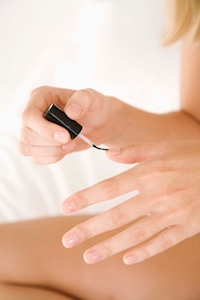 This is a TotalBeauty.com beauty tips article
Spring is here and that means it's time for a fresh start. Not only will I be trading in sweaters for breezy dresses, but I'm also updating my beauty routine. Buh-bye thick face cream, sayonara wintery hues. This season I'm psyched to try these three trends.
Good morning Gorgeous!
Oh Glory to God it is April! Easter is only a few short weeks away! And maybe your prom or wedding or birthday or, just name it is a few short weeks away!
Would you like to lighten your hair, or add subtle highlights at home for your special event without
the salon price? Give this product a try. It's not the Sun In brand of my youth, in fact it's a new formulation and has a nice effect as you can see in the pictures. Now I have dark hair and this product does not work for dark hair and I wasnt' even going to try it! But, for Mancub who has light hair, why not?
We applied 4 different times, on freshly
shampoo'ed hair. I also applied heat by using a hair dryer to dry the product into the hair. The directions say that if after applying the Go Blonder spray you use a straightening iron on the hair the effect will be even lighter. Well, no need to do that to Mancub, a lovely golden blonde lighteness was achieved by simple spray and dry.
The effect is noticeable enough that the other soccer kids asked what gives with the hair? Now, the real test is in 2 weeks from now-does it grow out a root? More later! Enjoy this for your prom looks! Remember: you are beautiful! Thank you for visiting the blog and check back for promotions and beauty giveaways!