A recent college graduate gets the hair and makeup revamp she needs to land her dream job in the fashion industry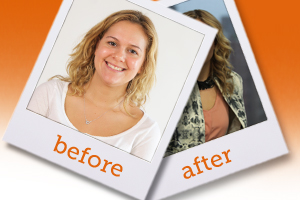 This is a TotalBeauty.com makeover article
The economy is rough and with unemployment still at a record high, every little detail counts. Tighten up that resume, polish those heels, and make sure your hair and makeup are flawless. Watch one recent college grad get a total makeover that helped her stand out from the rest.
Hello Gorgeous!
October is National Breast Cancer Awareness month and Cureology pure hair care partners with the NBCF-National Breast Cancer Foundation for raising awareness through pure, natural ingredients.
The photo at The Buttes during Spray Tan Camp shows my samples. I've tried them all and the shampoo and conditioner are luxury in a bottle!
Here's a little bit more about
Cureology from their website
:
"The Cureology Beauty Hair Care line utilizes only the purest natural ingredients, resulting in healthy and vibrant hair while contributing to a meaningful and worthwhile cause - finding a cure for breast cancer. Cureology: The Beauty of Giving"
I love the scent and texture of the shampoo and conditioner. You can get your Cureology at Ulta. Enjoy!
Remember: you are beautiful! Thank you for visiting the blog and check back for promotions and beauty giveaways!