Happy Valentine's Day Gorgeous!
Big date with your beau? Going out with the girls? Hittin' the couch with wine and chocolate? Look amazing with this simple look with PUR Mineral cosmetics. Now-I can not vouch for any of the other products listed below because I did not test them personally.
BUT! I did sample the eye shadow trio called Rebel and got a gorgeous smokey eye that can go from work to play! Get your PUR products at Ulta stores or
online
!
FACE
Even the complexion with

4-in-1 Pressed Mineral Makeup

Sweep

Universal Marble Powder in Pink

on the cheeks
EYES
-
Step 1:
Apply a wash of the frosted pink shade,
Double Trouble,
from lash line to brow using the Eye Shadow Brush
-
Step 2:
Work
Heart Throb
, a rosy mauve, into the crease with the Crease Brush in a windshield wiper motion
-
Step 3:
In small circular motions, apply the darkest shade
Renegade
to the outer corners and blend into the crease with the Utility Brush
-
Step 4:
Make the eyes pop with a dab of
Double Trouble
in the center of the lid using the Maximum Coverage Brush
-
Step 5:
Line both the upper and lower lids from corner to corner with
Renegade
using the Eyeliner Brush for smoky depth
Apply 2 coats of

Big Blink Mascara
LIPS
Keep the lips soft & kissable with

Pink Crush Pout Plumping Lip Gloss
Follow our oh-so-easy steps for a perfect Valentine's Day date night look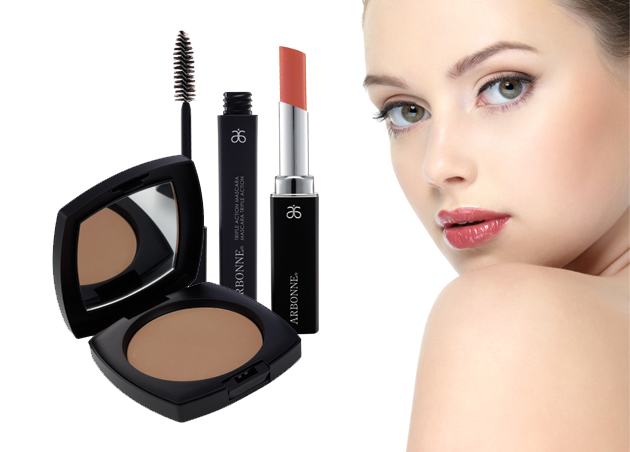 This is a TotalBeauty.com
Advice
article
Valentine's Day falls on a Thursday this year, which means you probably won't have all the primping and preparing time that you'd like for your special date. By the time you get off of work, change, re-style your hair, and factor in travel time, standing for hours in front of the mirror to perfect your makeup is definitely no longer an option. Luckily, we've got the perfect makeup routine that creates a gorgeous look in just three easy steps, so you'll make your reservation with time to spare!
Remember: you are beautiful! Thank you for visiting the blog and check back for promotions and beauty giveaways!