Make sure your anti-aging regimen includes your body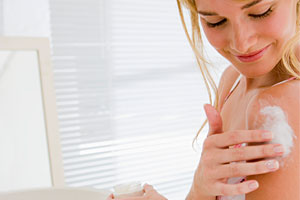 This is a TotalBeauty.com anti-aging skin care article
We called on skin doctors to offer up secrets to a younger looking body.
Hey gorgeous, how are you today? Hot and fabulous I'm sure. Well, if you live with me in Arizona, you are definately hot! The weather is over 105...!

Now this photo is me with no makeup on anywhere though specifically my eyelashes.
I'm testing the new Mega Protein mascara in very black from wet'n'wild.
Yes, the very same wet'n'wild affordable cosmetic line you can literally find in drugstores, Walmart, Targets and then some across the nation and I suspect around the world?
This is a new formulation for them and it's protein fortified so think of it as an eyelash snack.
I've got some homemade video of me putting it on (nothing nice like the vids from Josh o'Shutternaut) and I"m wearing it now after taking this photo and making the video. So far so good. I've got a double coat on, no smell, nice slip on the lash, an average brush and the wear is not smudging or flaking. So for $2.99 you could get one for your beach bag, one for your travel case! Enjoy it! I"ll see about getting the video up later today...

Remember: you are beautiful!Thank you for visiting the blog and check back for promotions and beauty giveaways!