Find out which products will keep you burn-free and looking fabulous this summer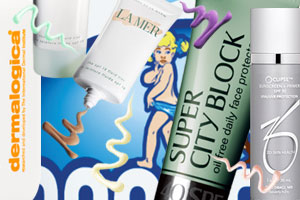 This is a TotalBeauty.com best and worst skin care products article
While it's no fun to apply sunscreen (unless of course someone else does it for you), using these top-rated products will hopefully make it a tad more enjoyable.
Sun protection! Before you click through to see which brands are best, here is my two cents: When you buy Banana Boat Sport waterproof spf 50 from Costco on coupon, making the two large bottles and extra grease stick a total of $8-it's a good bang for the buck!
I use it daily to run in and it is sweat proof. Now I do have to reapply while at Sunsplash and I do get a wee bit pink on the back. It could be the length of time we are there, the standing with a double raft over my head going up a slippery hill to get to the next waterslide, or just my fair skin; but I feel it's worth the money and I love having a Costco coupon to reduce the price.
It's working for me and the Mancub, maybe it will work for your family too! Enjoy!
Remember: you are beautiful!Thank you for visiting the blog and check back for promotions and beauty giveaways!