See if your town is one of the 11 cities with the best hair color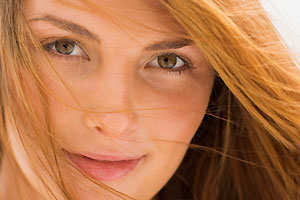 This is a TotalBeauty.com hair care article
We did the numbers for you and discovered which cities have ideal conditions for long-lasting, beautiful hair color.

Hello! So I spent over a month using Revitabrow to grow some brows. Here they are.

Then after growing brows they got a bit long and unruly! So it's time to go to a brow threader to have them shaped. Enter this place in the mall.

It was clean and affordable at $10 for both brows and the space in between. My threader was Brooke Leopold and she is there most days, so if you like my brows and want yours threaded too, go see her!
Now here is a close up of just how big my brows are.


I love them, but they need some guidance. Remember before I used the Revitabrow treatment on them, they were very light in color and thin, sparse and always had to be drawn on.
That's Brooke in the photo working the threads as they pull across my hairy eyebrows. It is a unique sensation. It pulls, but it doesn't hurt? Oddly enough, it's relaxing.

You know, I'm sitting in a reclined chair in the middle of the mall having my brows threaded and luckily the mall wasn't busy. I suppose that the threading isn't as garish looking as being waxed in public?
There are more services offered: like a chin thread, a full face thread or anywhere that you need hair removed can be threaded.


At one point, this hair removal system turns into a tag team effort where in order to get the underside of the brow I have to hold my eyelid shut tight and pull my brow up, sort of like eyebrow Twister game without the colored spots and falling over. This is how Brooke wields the thread for precise brow shaping, with my help!
This is a close up of how the thread pulls the

brow hair. It's two pieces of regular sewing thread twisted together and somehow it grabs and pulls?

Now that the stray hairs are gone it's time to clean up the length of the brow hairs and trim the tops.

All done! Look at the difference between the first picture and the last! Gone are the wild and woolly brows that I grew in using Revitabrow and now I have lovely shapely full brows! Oh so exciting!
There are Shapes Brow Bars all over in Westcor shopping malls. Brooke Leopold did mine and she can do yours too!

Remember: you are beautiful! Thank you for visiting the blog and check back for promotions and beauty giveaways!