See which regimen will keep signs of aging at bay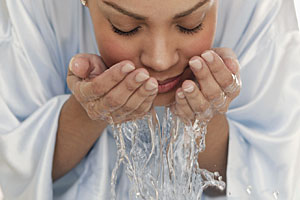 This is a TotalBeauty.com skin care article
Do you mindlessly put on the same ol' beauty products day and night? Take this quiz to see which cleansers, moisturizers, etc. are best for you -- then make the switch.
Father's day is coming up on June 20th and now is a good time to start thinking of ways to bless your dad. You know him as the head of the household and leader of the pack called your family. But now, let's think of him as a man who could use a really good:....fill in the blank? Most likely not another apron to use while grilling and certainly not a tie. So, why not look into some Jack Black skincare product for him?
A sample came to the blog and I shaved my legs with the beard lube and wore the Double Duty Face Moisturizer with spf 20. Let me remind you that men have thicker textured skin so whereas I'm happy to test a product, sheesh, this one was a bit much for my skin type.
I finished my sampling with the Jack Black Hand Healer and this stuff is amazing. I have really dry hands and cuticles that could double as a pin cushion pain free because they are so thick! Alas, enter the Jack Black Hand Healer and it didn't soften them a bit. So naturally I put a thick layer on my feet and covered them with socks. Time will tell how that experiment turns out.
This line is cruelty free, and good for vegans. Guess I better call Josh the vegan photographer who helps with the videos and test this out on him and see if it gets the vegan seal of approval.
Good luck finding the right gift for dad and check back for a Dad product giveaway...any day now...
Beard Lube Conditioning Shave with Jojoba and Eucalyptus
An entirely new way to shave. Unlike traditional shaving foams and gels which can dry out skin, our award winning Beard Lube is a pre-shave oil, shave cream and facial skin treatment in one easy-to-use product specially formulated for men's shaving needs. The unique formula contains phospholipids - a rich source of essential fatty acids that are essential to the function of cell membranes - to bind moisture to the skin and support the natural skin barrier. The lightweight, penetrating formula not only helps prepare your beard by penetrating and softening whisker growth, it holds in moisture so your shaving blade glides easily. Refreshes skin, too, for an easier, smoother shave and less razor burn. The unique see-through texture lets you see where you're shaving, helping to prevent nicks and cuts--especially great for shaving side burns, moustache and head. Won't clog your blade, because it's super light and rinses easily. Fragrance-free. Colorant-free. Dermatologist tested. Vegan.
Remember: you are beautiful!Thank you for visiting the blog and check back for promotions and beauty giveaways!