Hair extraordinaire Charles Baker Strahan answers reader questions on styling hair in the summer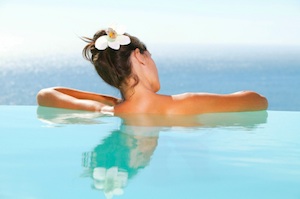 This is a TotalBeauty.com hairstyles article
As temperatures start to rise, it gets harder to keep hair cool and coiffed. So Strahan gives us tips to beat the heat while still looking great.
Happy summer to you Gorgeous!
Well, the waterpark chlorinated water, daily pool, plus hot summer sun have dried my skin and lucky for me, as I'm on vacation-I also have a wee tub of La Licious creme whipped body scrub.
It's so emollient and feels nurturing on my dry skin while also gently exfoliating off the chlorinated skin.
It's such a treat and a perfect 'pamper me' spa product to have at home or in your beach/pool bag to take care of your skin with after water play.
But don't take my word for it-go see for your self at
http://www.b-glowing.com
which is a lovely hub of unique products! Check out the Becca and Paul and Joe products while you are there!
Remember: you are beautiful! Thank you for visiting the blog and check back for promotions and beauty giveaways!