See the hottest styles that will actually stay put when the temperature starts to rise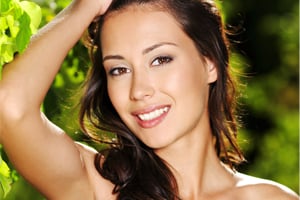 This is a TotalBeauty.com hairstyles article
After spending 20 minutes perfecting every curl and smoothing down each strand, you step outside to greet the summer breeze -- and your cute hairstyle suddenly poufs into a frizzy mess. Sound familiar? To make sure your hairstyle can stand up to the heat, see these frizz-fighting looks now.
Hello gorgeous teens! Welcome to TEEN WEEK on Makeup University!
This week is all about teen beauty! Teen hair! Teen skin! Teen health and most importantly encouraging the teen gal in just how beautiful, perfect and valuable she is!
See, this photo on the left is the lovely teen Alyssa Campanello.
Here she is competing in the Miss Teen USA competition.
She has shiny hair, clear skin, and beautiful makeup!
I have a few product recommendations that can help you, the lovely teen at home get your Miss Teen USA look started.
Eating healthy is the best place to start and drinking lots of water! Ease up on the fried foods and soda pop to help have clear skin! If you do have some body blemishes-and to help skin stay exfoliated try Body Clear by Neutrogena.
Clear skin can take your makeup look places that you want to go! It's really important to protect your skin from sun damage because it causes premature aging, wrinkles, and age spots.
Try a one, two punch of protection and beauty with Neutrogena Ultra Sheer liquid sunblock in spf 55 which layers invisibly under makeup. It's weightless and waterproof!
Then, put some smooth, even coverage on in makeup with the creme compact of Healthy Skin by Neutrogena which also has spf 55 helioplex the broad spectrum uva-uvb sunscreen.
You can keep your head and hair crown ready by adding a clarifiying shampoo twice a month to your normal hair care like Neutrogena's anti-residue shampoo.
Now, look at the photo on the left? Recognize her? That is former 2007 Miss Teen USA 1st runner up Alyssa Campanello. Now she is the current reigning Miss USA.
See! Dreams really do come true! Plan your work and work your plans. Dream bigger than you already are! There is nothing impossible to you who believes! I believe in your dreams too! Share your thoughts in the comments section! I'de love to hear what you are dreamin' up for yourself!
Photos courtesy of Steve Marcus/Reuters and Fadil of the Miss New Jersey Teen USA website
Remember: you are beautiful! Thank you for visiting the blog and check back for promotions and beauty giveaways!