Thinking about going under the knife? Make sure you read these common plastic surgery mistakes no one talks about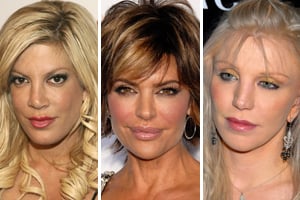 This is a TotalBeauty.com plastic surgery article
Everybody knows the horror stories of dying from blood clots or a heart attack, but there are much more common -- and less talked about -- ways for a procedure to go wrong. Make sure you know all the risks before signing your name on the dotted line.
Hello Gorgeous and happy Friday the 13th!
I was born on the 13th-so I consider it to be very,
very lucky! In the honor-2 goodies for you!
Now-you are about to double up on your luck
today!
1st
- Urban Art Tattoo II ( go see Sage) is doing $13 tattoos.
You go to the shop on Main St. in Mesa-pick your
$13 tattoo off of the designated flash ( No-your dream back piece will not be $13) and then sit back and enjoy the ink flow.
443 West Main Street
Mesa, AZ 85201
(480) 644-0812
Now-the second goody I have for you is free!
The Israel produced Dead Sea skincare set for men from
Minus 417
is yours! Free!
Makeup University is giving away one free set to one lucky Friday the 13th tattoo recipient!
Guys-this is amazing and simple to use skincare that will get you Valentine's Day ready!http://www.blogger.com/img/blank.gif
To Win:
Simply send a photo to the blog/Twitter/Facebook account for Makeup University of your new Friday the 13th tattoo that you got at Urban Art Tattoo II.
You must be 18 years of age to win, and live in the continental United States. Product ships from the company and should arrive to you with in 2 weeks. No vulgar/obscene images please.
Send jpg images to:
Twitter:
@Cherelynn
Facebook:
www.facebook.com/makeupuniversity
Good luck and enjoy this amazing Friday the 13th!
Here's a short replay of a video featuring the Urban Art Tattoo II studio, Sage, myself-and Cookie Monster.
Remember: you are beautiful! Thank you for visiting the blog and check back for promotions and beauty giveaways!