We applied the same lipsticks on four women with varying skin tones and undertones -- see which hues flattered all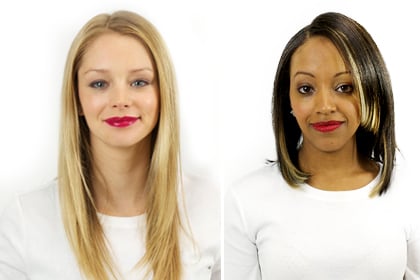 This is a TotalBeauty.com makeup article
Finding the perfect red lipstick can take months of trial and error -- until now. We tested a gamut of lip colors on four women with very different skin tones to find the lipsticks that are truly universally flattering. See our three picks now.
Hello Gorgeous!
It's that time of year-time to get ready for the Waste Management Phoenix Open-a PGA tour stop in Arizona.
For 75 years The Thunderbirds have kept the tournament going and their fundraising has benefited over 150 local charities from the $65 million raised. Go Phoenix!
Now for those attending on Saturday February 4th-WEAR GREEN! It's a
green out
!
If you need to get your skin polished and moisturized for
the long day of walking the lush greens and admiring the
general splendor of Arizona-be sure and start with MyChelle
Tropical Skin Smoother.
This yummy smelling, light grit textured exfoliant is
effective at polishing off dead skin cells and leaving
skin smooth.
I've been enjoying my sample for a week now-and love it!
You can order it online or you can buy it at your local
Sprouts and Whole Foods stores. $31.79 for 1.2 oz online.
There is so much to the Mychelle line of skin care that I insist you visit and learn more. This is the oil free Grapefruit Cream.
It does not contain a sunscreen-so make sure and apply a layer on top of this either in a sunscreen product or in your makeup and pack along a visor and big sunglasses.
It is step 5 in the MyChelle skin care regime and I find that it adds great moisture to my skin-but I prefer a heavier creme. If you are a teen or a lady experiencing hormonal acne and breakouts-this is the product for you!
It is a lightweight restorative cream with SCO Totarol™ to control blemish-prone skin. $29.99 online for 1 oz.
All of the MyChelle products are cruelty-free, gluten-free, vegetarian friendly. Always free of harmful ingredients such as parabens, phthalates, ureas, petroleum-based chemicals and artificial colors.
I browsed around on the
MyChelle
website at the makeup; I'm curious how the foundations wear? Anyone use or experience them? Post a comment and share how it worked for you!
Remember: you are beautiful! Thank you for visiting the blog and check back for promotions and beauty giveaways!