Look like you haven't slept so well in a while? You need this product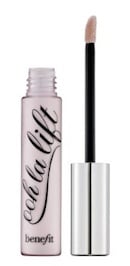 This is a TotalBeauty.com eye makeup article
With your cheekbones sagging, your fine lines getting deeper, and your eyelids drooping, it's obvious that yet another year has passed (sigh). But before you start feeling down and sign up for an emergency Botox session, try this highlighter that our editor swears by.
Hello Gorgeous!
Did you make a new year's resolution
for clearing up your acne?
Consider the Obagi Clenziderm M.D.
3 piece system to clearing up
skin. Visit www.obagi.com to find an offfice near you!
Obagi CLENZIderm M.D. Daily Care Cream Cleanser
Gentle, nonsoap cleanser removes dirt and excess oil, leaving skin clean and soft.
Obagi CLENZIderm M.D. Pore Therapy
Unclogs pores and clears dead skin cells while preparing skin to deeply absorb a liquified serum that targets acne at its source. 2% Salicylic acid eliminates residue on the skin and minimizes blemishes.
Obagi CLENZIderm M.D. Therapeutic Moisturizer
Noncomedogenic, glycerin-rich moisturizer. Calms, soothes, and protects skin for enhanced comfort. 1% Dimethicone provides a breathable barrier to soothe and protect skin. 20% Glycerin hydrates to provide a skin barrier against loss of moisture.
Remember: you are beautiful! Thank you for visiting the blog and check back for promotions and beauty giveaways!