The "Modern Family" star wows at the Golden Globes with her flawless makeup -- see how to get the look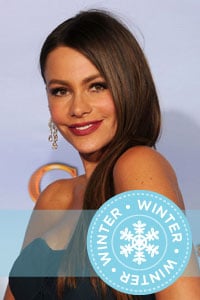 This is a TotalBeauty.com makeup article
It shouldn't be a surprise that Sofia Vergara looked stunning on the red carpet last weekend. Her sleek hair and bold red lips were definitely worth admiring -- and copying. We went direct to the source and found out how Sofia got her makeup red-carpet ready.
Hi Gorgeous!
Happy Monday!
Normally I love a Monday and get more done on a Monday than most of the week! That is until I just finished an 8 day stretch of work at the Scottsdale Barrett Jackson car auction and show.
Whoa-am I ever tired!
During the week of work, I tried many new products and the good news is, each passed the tests while being under extreme duress!
One of the products I tested was this leave in hair conditioner from Infusium 23.
It is Step 3 in the Repair & Renew line from Infusium 23. I used it two ways: 1) I sprayed it into my hair while wet after a shampoo and conditioner, then used a hair dryer to style my hair. Results were a soft and flexible feeling hair both down and up in a ponytail.
2) Part way through a very long day, I sprayed it onto my dry hair to attempt a reviving of wind blown and cold chapped hair, and I didn't notice a huge difference? But I think every little bit of self care helps!
I'm happy with the product, I really like the shampoo in the moisture line from Infusium 23 and I give it a thumbs up-it's worth you time and money.
Best of all-it's easy to get! Any major retailer or drugstore will have some products from the line.
Enjoy!
Remember: you are beautiful! Thank you for visiting the blog and check back for promotions and beauty giveaways!