Make sure to try this hot trend before summer ends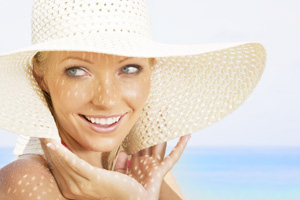 This is a TotalBeauty.com makeup trends article
It may sound crazy, but using white makeup can bring depth to your dimensions and make your features pop -- that is, if you use the color correctly. Carmindy of "What Not to Wear" gives how-to tips that will help you see how wearable this color can be.
Hello Gorgeous!
Have you left yet for the Labor Day weekend holiday? If not and you have sensitive skin that has been challenged from the super hot and dry weather, this Burt's Bees sensitive skin face creme and eye creme.
It's formulated with cotton extract to soften, rice extract to moisturize and aloe to soothe. It's fragrance free, hypo0allergenic and dermatologist tested. I like the light clean smell and it absorbed right into my skin. So-I most likely will be using this when I get home from camping. Enjoy your holiday weekend and be safe, wear sunscreen!
Remember: you are beautiful! Thank you for visiting the blog and check back for promotions and beauty giveaways!