The ultimate secrets to looking refreshed -- even if you feel anything but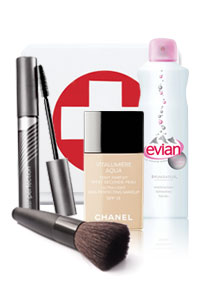 This is a TotalBeauty.com makeup tips article
Whether it was a happy hour that turned into an all-night pub-crawl or your 2-year-old's monster-filled nightmare that kept you up all night, there are times when eight hours of shut-eye just doesn't happen. To the rescue: These makeup tips, which hide sallow, tired skin, so you can look refreshed and "awake" even when all you want to do is crawl back under the covers.
Hey Gorgeous!
If you are packing last minute for Labor Day weekend-pick up some Glow on the Go kits from Juara Indonesian skincare. It's decadent botanical skincare. Everything you need to keep your skin looking amazing is packed in this little kit!
Here is where to get some-if you aren't in Scottsdale or Tucson-then check the store locator on the website.
Glamour Lounge
7137 East Stetson Drive
Scottsdale, AZ 85251
tel: (602) 882-5663
Healing Spirits Boutique - Cancer Center
UMC Hospital
3838 N Campbell
Tucson, AZ 85719
tel: 520-694-1814
Remember: you are beautiful! Thank you for visiting the blog and check back for promotions and beauty giveaways!