See how to get the singer's look with a step-by-step tutorial from her makeup artist
.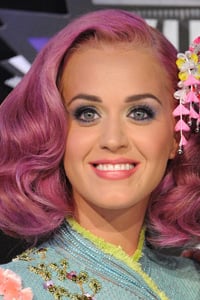 This is a TotalBeauty.com makeup tutorial article
MTV's Video Music Awards never disappoint. The outrageous makeup, hair, and outfit ensembles provide great entertainment and, albeit more rarely, great inspiration. For instance, this year we were particularly wowed by Katy Perry's berry pink hair and makeup to match. So we talked to her makeup artist, Jake Bailey, who gave us the steps that'll help you copy her look.
Good morning Gorgeous!
Stillettos on! Big dark sunglasses ready! Netbook and notes ready to be taken on the newest looks-check!
Before heading out 'Into the Wild' of the New York Fashion Week-remember to layer on a scent to help accessorize your look and make your style statement.
This fragrance from the Bath and Body Works Signature Collection is a rich and sumptuous scent just right for Fall! Into the Wild comes in a body wash, lotion, creme, body spray and perfume atomizer. The products are also on sale, buy 3 get 2 free meaning you can get the entire line at a savings and be ready to layer your NYFW scent.
Fragrance is always the best accessory so why not start today with a new scent? Enjoy the NYFW shows and post pics and comments!
To learn more about the Into the Wild fragrance visit:
http://www.bathandbodyworks.com/search/index.jsp?kwCatId=&kw=into%20the%20wild&origkw=Into+the+Wild&sr=1
Remember: you are beautiful! Thank you for visiting the blog and check back for promotions and beauty giveaways!