Love the sun, but hate what it does to your once-silky hair? Restore moisture and shine to your dried out tresses with these recipes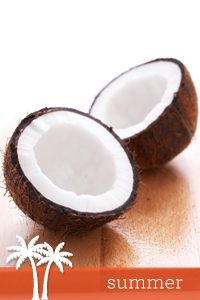 This is a TotalBeauty.com budget hair care article
Summer's all about the sun, beach, and outdoor activities -- great for your weekend plans, but destructive to your poor hair. If the last thing you can afford to drop a bunch of cash on right now is some fancy-pants salon revitalizing treatment, read on. These DIY solutions will wow you.
Hey Gorgeous!
I have run two tests on two different types of hair for Kosher Kurls- a kurls best friend! This leave in hair moisturizer helps de-frizz and shape curls.
It did a wonderful job defining curls on short curls, now here is an example of Kosher Kurls on long curls.
Using a sample of Kosher Kurls-the lovely model with the long brown hair squeezes out a generous amount to finger schmoosh into freshly washed hair.
She works it into the ends by hand-though if you wanted, you could apply and comb through.
Now in the final photo-you can see the shape of the curls and a light springy texture to them.
When I asked feedback on how the product worked for her, she mentioned that she is used to using a more heavier product to smooth down curl frizz but could see a difference with Kosher Kurls. So for the long hair, two samples or a small palmful would do the job nicely.!
Get your sample of Kosher Kurls or a whole bottle for that fact by visiting
http://www.kosherkurls.com
Remember to check them out on Facebook too!
Remember: you are beautiful! Thank you for visiting the blog and check back for promotions and beauty giveaways!