Want great skin? Then you need to not only eat well, but also eat the right types of foods -- see what they are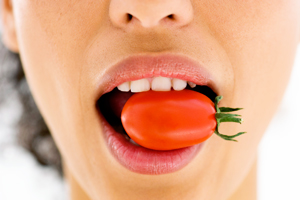 This is a TotalBeauty.com healthy skin article
You need food. But in the same way that certain foods can ruin your figure, some foods will ruin your skin -- and, conversely, adopting a healthy skin diet can make all the difference in your face.
Hello Gorgeous! Enjoy this short video tutorial on how to get a bronzed Dancing with the Stars Kirstie Alley look using Milani baked bronzer and eye pencil, plus some Borghese, Makeup Forever and more!
Here's one of my favorite DWTS Kirstie Alley videos!
My foundation: Koh Gen Do High Definition Makeup 023
Blush: Milani Baked Blush in Bellisimo Bronze
Eyes: I have the Belisimo Bronze on my lids too, plus the Milani Liquifi Eye in Purple for liner
Mascara: L'Oreal Voluminous
Lips: Borghese Pinkissima
DWTS Hair Extension in GoGo! 18" in Dark Brown
Headband by Goody
Earrings by Claires
Remember: you are beautiful! Thank you for visiting the blog and check back for promotions and beauty giveaways!