Find out if using mayonnaise to combat dry hair and other wacky beauty "tips" are really true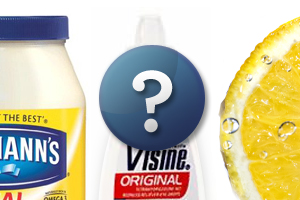 This is a TotalBeauty.com beauty tips article
This quicky quiz will test whether, without the help of any website or reference book (or frantic call to your brother the dermatologist), you can discern real beauty tips from made up nonsense. It's a little game we like to call "Beauty Tip or B.S.".
Hello Gorgeous and Happy May Day!
These two lovely products are from Davines-on you must read the s tory of Clark's Botanicals and how Davines came to life.
Francesco Clark, the founder, has a book called Walking Papers: The Accident That Changed MyLife and the Business that Got Me Back on my Feet.

He has an incredible story but best of all-it's simple homeopathic ingredients that helped heal him! Now, they are in the Davines products! My favorite is the nourishing oil- which is the bottle I'm holding and the creme in the tube is amazing for it's rich, hydrating texture and easy absorbtion into the skin.
Davines is available world wide through salons-so, when you visit the website at www.davines.com you can find your closest salon by entering your city and state. This line is a recippient of the CEW 2008 Indie Beauty Award plus the FGI 2008 Rising Star Award in the Beauty/Fragrance category. So, it's worth you checkin' into if you have sensitive, problem skin or just enjoy a safe, organic product! Enjoy!
Remember: you are beautiful! Thank you for visiting the blog and check back for promotions and beauty giveaways!