Sick of spending your hard-earned money every month on bang trims? Skip the salon and do them at home with these pro tips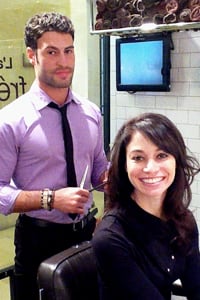 This is a TotalBeauty.com hair care article
Sure, you'd love to trim your bangs yourself -- but the risk factor of looking like Courtney Love pre-makeover is high. We feel you, which is why we talked to Giovanni Vaccaro, hair guru at the Frederic Fekkai Salon in New York City. He shares his no-fail DIY bang-trimming tips.
Hey Gorgeous!
I'm playing with my samples of Neutrogena Naturals-and so far so good! Rinses clean, removes makeup, leaves skin soft and the lip balm is smooth on the lips! No stinging of winter chapped skin.
The new tag line is " pure, safe and effective " and I think they have that right. There are no harsh chemicals, parabens or sulfates.
Plus, Neutrogena Naturals has partnered with the Forest Stewardship Council, and the Nature Conservancy with ambassador Kristen Bell.
This line of skin care would make a great holiday treat for under the tree or stocking. You can find the products online or at Walmart, Target, Krogers (that's Fry's in my neighborhood), Walgreens, Rite Aid, CVS and Ulta.
Enjoy these short videos of Kristen Bell working with water conservationist Alexandra Cousteau.
http://naturals.neutrogena.com/utm_source=n_com&utm_medium=website&utm_campaign=n_com_cathead
Be sure and check out the Green Server page on
Neutrogena Naturals!
Remember: you are beautiful! Thank you for visiting the blog and check back for promotions and beauty giveaways!