Want long, thick lashes without wearing falsies? See how to get them naturally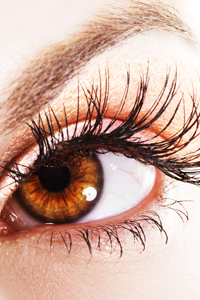 This is a TotalBeauty.com makeup article
We've come to terms with our mousy hair color, our pasty skin -- even our ugly toes. But we can't accept our stubby, sparse wisps for eyelashes. That's why we talked to Courtney Akai of Courtney Akai Lash Boutique in New York City to find out what we can do to have long, lust-worthy lashes.
Hello Gorgeous!
Gettin' ready for Thanksgiving? I know I am! I have been playing with this amazing look for Fall beauty-and perfect for holiday parties too-it's a liquid eyeliner with a wee bit of shimmer in it from Jouer Cosmetics.
I have a rich brown with golden shimmer called Sable and then a slightly lighter more coppery color called Mink. The best part of these liquid liners from Jouer is that as the day goes by-if you need to refresh your makeup look, it's really easy to draw over the line from this morning and have a fresh look for this evening.
I have also smudged my eyeshadow over the line when it's dry for a softer smokey eye look. Then in another look, I concealed the entire lid and made a deep dramatic cat eye swipe of liner with the Sable color-it was a great look paired with matte nutmeg brown lips for a power coffee meeting!
So enough of me blathering on about the benefits of Jouer cosmetics, why don't you read some from their website, below, or better yet-visit Jouer
here
!
"Think you can't pull off, or rather apply, liquid liner? Us too. That's why we created revolutionary long-wearing liquid liners that are fool-proof. The subtle shimmer in each shade offers extreme wearability while the water-base formula allows for a little extra dry-down play time. Designed to prevent from creasing or fading keeping look polished throughout the day...and night. Rich in Vitamins A & E. Paraben-free.".
price: $22.00
Remember: you are beautiful! Thank you for visiting the blog and check back for promotions and beauty giveaways!