Confused about what highlights, lowlights, and all the lights in between really mean? Here's what you need to know to choose the best option for you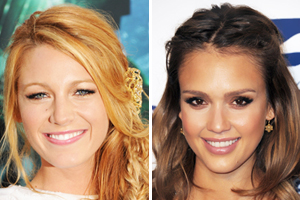 This is a TotalBeauty.com hair color article
Whether your hair is jet black or blonde, there are highlights perfect for your hair color -- you just have to know what to ask for. Here, Marco Pelusi, hair colorist to Hollywood's A-list, explains the ins and outs of getting highlights so you can get the ones that'll be most flattering on you.
The time is here! Back to School is beginning in Arizona and as a preview-I have an interview with Nickelodeon star Kiki from The Fresh Beat Band played by Yvette Gonzalez-Nacer. Enjoy the insights and remember to tune into the show!

Break-out Cuban beauty Yvette Gonzalez-Nacer stars as the vivacious and spunky, guitar playing dancer "Kiki", in Nickelodeon's hit live-action musical series, "Fresh Beat Band," (daily, 1/12c). Recently nominated for "Best Young Actress on a Television Program" by the IMAGEN awards, Yvette will be up against other young Hollywood stars Selena Gomez ("Wizards of Waverly Place"), Bella Thorne ("Shake it Up") & Victoria Justice ("Victorious"). In addition to her recent successes, she will soon be coming out with a solo album.

On the show, the triple threat plays one of four best friends in a band going to music school, who belt out original songs and solve kid-centric problems every week. On the show she has performed alongside musical heavy weights Justin Bieber and Ne-Yo making her an instant YouTube sensation. With an uncanny mix of girl-next-door sweetness fashion sense and style and magnetic charisma this rising star is poised to become one of the brightest newcomers in Hollywood.


The Miami native who speaks Spanish, French and Italian started playing the violin and piano at only three-years-old, so it's no surprise this gifted songbird was singing before she could even speak. Yvette began singing and acting professionally from her early teens, appearing in "7th Heaven," "Guiding Light," and the stage productions "West Side Story," "Much Ado About Nothing," "3 Mo' Divas," and most recently played the role of Vanessa in Broadway's Tony Award winning musical "In the Heights." After attending the University of Miami on an opera scholarship, she took to the stage with the Florida Grand Opera performing in Ireland, Thailand and Japan for royalty and heads of state.

Yvette is currently hard at work in the studio writing and producing songs for her own album which is being compared to a mix of Cee Lo Green and Adele. When not on camera or taking dance classes, she enjoys hiking, cooking, and learning more languages! She is a proud member of the charity Global Green, a national environmental non-profit organization dedicated to foster environmental initiatives.

I had a few questions for the lovely Miss Gonzalez-Nacer and here are her answers-remember to watch The Fresh Beat Band on Nickelodeon! To find your local show times and learn more about the show visit www.nickelodeon.com or her website at http://www.yvettegonzaleznacer.com/www.yvettegonzaleznacer.com/Welcome.html

1. What is your go to brand of makeup when you want to look your best?
"My go-to brand of makeup is MAC. They have the prettiest colors and are so versatile;they work great on camera, on stage and in life!"

2. What would you recommend for a young teen girl looking to start a performance career?
"I think if you are looking to break into the industry, the best thing you can do is to be prepared. Learn as much as you can and always keep honing your skills. That way, when the opportunity comes, you'll be ready."

3. Young girls are watching the character KiKi- what choices do you make to be a positive role model?
"I think it's such an honor to be a role model for young girls. We are all leaders by example and so I always try to do my best, whether it's something as simple as leaving everyone and every where just a little better than you found it, treating everybody with kindness and compassion, not doing drugs or getting drunk or just simply having self-respect."

4. What is the one cosmetic product you don't go a day without?
" I will not go a day without sunscreen!"

5. What is your summer 2011 fragrance?
" I love Pleasures by Estee Lauder."

Special thanks to Yvette for the time and insights into her likes and career. P.S. I love the Pleasures by Estee Lauder scent too! Then again-I pretty much like all perfumes!

Stay tuned for more 'Back to School' style,trends and how to beauty videos!

Remember-you look really gorgeous today!