UVA rays, chlorine, air conditioning, and more frying your hair? Find out how to repair it now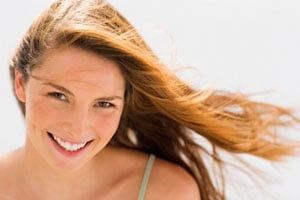 This is a TotalBeauty.com hair care article
Sure, all that time in the sun is fun -- until you're blowing out your hair for that summer BBQ and realize your color has faded and all that salt water has made your mane dry and brittle. Show your hair some summer lovin' by checking out these expert tips on how to repair the damage.
Oh yeah! Summer is still hot here in lovely Arizona-112 today. So, we went to Sunsplash-again. It was spur of the moment and luckily I had the swim bag in the car for just such an emergency! What I also had with me are the 2 Supergoop! sunscreen wipes you see in the photo.
Spf 30, single application, paraben and fragrance free-just right for sensitive skin. Now I loaded my bag with these yesterday and boy am I glad I did!
Arizona is in monsoon season which means that the sky is partly cloudy which as you know, means the rays are sneaky and piercing the clouds and your skin at the same time!
There are 21 wipes per box of Supergoop! sunscreen swipes and if you are getting ready for back to school these would be great to stuff in your gym bag, football practice gear bag, cheerleading rehearsal bag, locker for having sunscreen on the go and just keeping in your purse! I wouldn't keep these in the car in Arizona because they will quickly be ruined by the intense heat.
Remember, the Supergoop! swipes aare protecting with zinc oxide, green tea and vitamin e. Good goop!
Get yours from Nordstrom, Barneys, or online at
www.supergoop.com
Remember: you are beautiful! Thank you for visiting the blog and check back for promotions and beauty giveaways!