Follow these 6 simple steps and your legs will be ready for show-and-tell in a week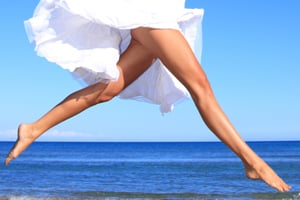 This is a TotalBeauty.com workouts for women article
It's no secret that the miniskirt is making a comeback. So, when it's time for your pasty white legs to see the light of day, here are the tips you'll need to get your gams in shape.
Hello Gorgeous!
Oh Perry Farrell, congratulations on your success with Lollapalooza! Who knew it would last 20 years? I remember being at the first one on July 18th 1991. The ticket cost $25-can you believe it! Ice T was the breakout performance, though Nine Inch Nails and Siouxsie and the Banshees were amazing also. It was so hot! That was back when Compton Terrace still had concerts!
Now, as a savvy beauty gal- I know that you probably already have your beauty look prepared-but just in case, here is a short video on how to pack to party and enjoy the all day concert event while still keeping your beauty fresh!
Products packed into my Modella bag-notice the wee manicure kit hanging on the side of the bag!
Kleenex travel tissues
Sheer Cover Sophisticate palette
Supergoop! Swipes sunscreen
Neutrogena makeup remover cleansing towelettes
John Frieda Frizz Ease extra strength formula
Streekers red temporary hair color
Violent Lips lip tattoos
Milani Liquifeye pencil in purple
Milani baked shadow in I Heart You
NYC smooch proof lip stain 16 hr
Tuff Scents LOVE red nail polish
EOS pink lip sphere moisturizing lip balm
Krigler 75 perfume sample
Clive Christian 'C' perfume sample
L'Oreal Voluminous mascara
Wet n Wild Mega Matte lipstick
Disposable makeup applicator brushes
3 makeup brushes: slant tip with mascara wand groomer from Brow Diva, Small shadow brush from Smashbox, Medium shadow from Adesign makeup brushes
3 Lab perfect skincare samples
AVON creme foundation sample spf 20
mini Aquafresh toothpaste
DenTek floss stik
Hair ties, bobby pins, clear comb
Halls menthol cough drops (what you didn't see: Rohto mini eye drops and mini Naturally Fresh deoderant)
Old Spice deoderant Swagger sample to give to someone stinky...because you know, there is going to be someone stinky!
Look at the lineup! http://lineup.lollapalooza.com/ It's goin' to be good!
If you can't be there to see Girl Talk, Eminem, Foo fighters, tini Tempah, Coldplay or Ryan Boingham and The Dead Horses-then tune in for the webcast!
And to go down memory lane, look at this link dedicated to the first ever Lollapalooza held right here in Phoenix Arizona. I wonder why Perry Farrell chose Phoenix? http://lineup.lollapalooza.com/past/1991
Remember: you are beautiful! Thank you for visiting the blog and check back for promotions and beauty giveaways!