Before signing on the dotted line, make sure you know about these common risks nobody talks about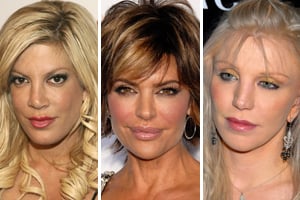 This is a TotalBeauty.com plastic surgery article
No, these aren't the one-in-a-million horror stories of blood clots and infection -- these are the way more common (and still pretty scary!) side effects that'll make you think twice before going under the knife.
Hello Gorgeous!
It's August in Arizona as well as the 'Back to School' season-so what this means is we have the weather/style recipe for frizzy hair in a style conscious season! Just as you want to look your best in your new school or job-the weather throws the curve ball of high humidity and high temperatures.
No worries-I have tested the 3 different types of John Frieda hair smoothing serums. There is the Frizz-Ease thermal protection with 'thermal shield complex' to help save your hair from heat iron damage in the orange bottle. The purple bottle is the FrizzEase extra strength formula for unruly, coarse hair that in humid weather can be easily tangled and uncombable. Finally in the clear bottle is the oringal formula which began the phenomenon to transform moderate frizz and flyaways.
The product works well, is easily accessible at almost any mass retailer such as Walmart, Target, Fry's Marketplace, CVS, Walgreens and a store near you I'm sure! It's affordable at the $10.00 mark-so having one at home and one in the school locker is feasible.
To use: simply put as dab or two into your hands, rub together to make a small emulsion and then begin to work into the hair from the ends up. I wouldn't apply directly to the scalp because it can make the scalp look a bit oily.
Simple, easy hair style management at the tip of your fingers!
Remember: you are beautiful! Thank you for visiting the blog and check back for promotions and beauty giveaways!