You don't always have to shell out the big bucks for quality products -- these drugstore imitations of high-end faves are proof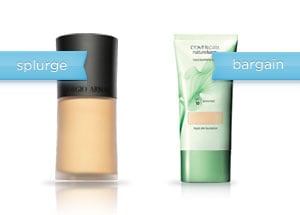 This is a TotalBeauty.com budget products article
Who doesn't love a good deal? We appreciate bargains just as much as the next gal, which is why we hit up one of our favorite makeup artists for drugstore picks that are practically exact duplicates of high-end brands. Start saving by checking them out here.
Hello Gorgeous!
Do you have naturally curly hair?
How about you have permed hair and need
amazing, natural conditioner to shape the
newly ammonia'nized ringlets?
Maybe you just have naturally wavy hair
like mine that is curly on the neck part but
straight on the top?
Doesn't matter if you have curly hair at all-
maybe your's is just dry and you want a natural
leave in conditioner to apply to your damp hair.
See the top picture of the blue bottle is the actual
Kosher Kurls product-and the yellow squeezy
tube is the sample you get for free when you
log on to the
http://www.kosherkurls.com/
website.
Now, we have seen many a photos of me and my hair, so to help demonstrate the effectiveness
of the product I have enlisted model help from
another naturally curly haired woman.
We shall call her, 'Model A'-with her African American curls freshly washed, she squeezed
a small amount of Kosher Kurls into her palm, then rubbed them together to make an emulsion
and pressed and schmooshed into her hair.
The scent is light, non lingering, and the product
absorbed into the hair, leaving a light shine with defined curls. Or so says Model A!
Now don't just take my word for it-order a sample for yourself! I used it during the very humid monsoon season here in August in Arizona and it gave some shape to my fluffy unruly wavy hair and for Model A-it gave these defined curls as shown in the photo to the left. I'm a Kurlfriend now, and won't you be my 'Kurlfriend' too?
As always, I love to hear from you- so comment away!
Remember: you are beautiful! Thank you for visiting the blog and check back for promotions and beauty giveaways!