UVA rays, chlorine, air conditioning, and more frying your hair? Find out how to repair it now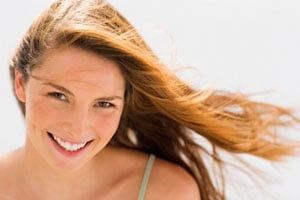 This is a TotalBeauty.com hair care article
Sure, all that time in the sun is fun -- until you're blowing out your hair for that summer BBQ and realize your color has faded and all that salt water has made your mane dry and brittle. Show your hair some summer lovin' by checking out these expert tips on how to repair the damage.
Hello Gorgeous!
Summer sure is going out with a bang! Teen Choice Awards are on August 7th. Now playing six degrees of separation with Tuff Scent: Ryan Seacrest, who hosts American Idol is on being aired on Fox which also aired the Grammy's where Idol host Ryan Seacrest had a gifting lounge that featured Tuff Scent where Grammy winners Britney Spears and Beyonce Knowles have attended and now the whole shebang is going to repeat it's self at the Teen Choice Awards real soon.
So-to get your Rose scented Tuff Scent nail polish go to
www.tuffscent.com
I there are so many colors and scents to choose from! The scent lasts for about a day and up to 3, though my manicure rarely ever lasts longer than 2 days!
You can also find the products at
www.shopfinenfunky.com
Remember: you are beautiful! Thank you for visiting the blog and check back for promotions and beauty giveaways!